Damir Becirovic is a Principle at Index Ventures that has backed some of today's fastest-growing startups including Bird, Boulevard, and Gatsby, and was the Lead Series Seed Investor in Nacelle. Damir is laser-focused on eCommerce and has the unique perspective of someone constantly analyzing the industry and considering how customers will respond to trends, technology, and brand strategies.
Damir sat down with Nacelle CEO Brian Anderson in our Head-to-Head of Headless Video Series. His responses shed light on the approach to technology that merchants need to in order to be successful—today and in the future as the eCommerce landscape develops.
This series is for business leaders, strategists, and anyone interested in coveted expert insights about the direction to drive their eCommerce company. Here are some highlights from Damir's series.
Which brands benefit most from headless commerce?
Not all brands are a good fit for a headless commerce solution. There's a certain level of sophistication a brand needs to achieve in order to truly be an ideal candidate. That sophistication correlates to revenue in part, but also to the robustness of a company's development resources.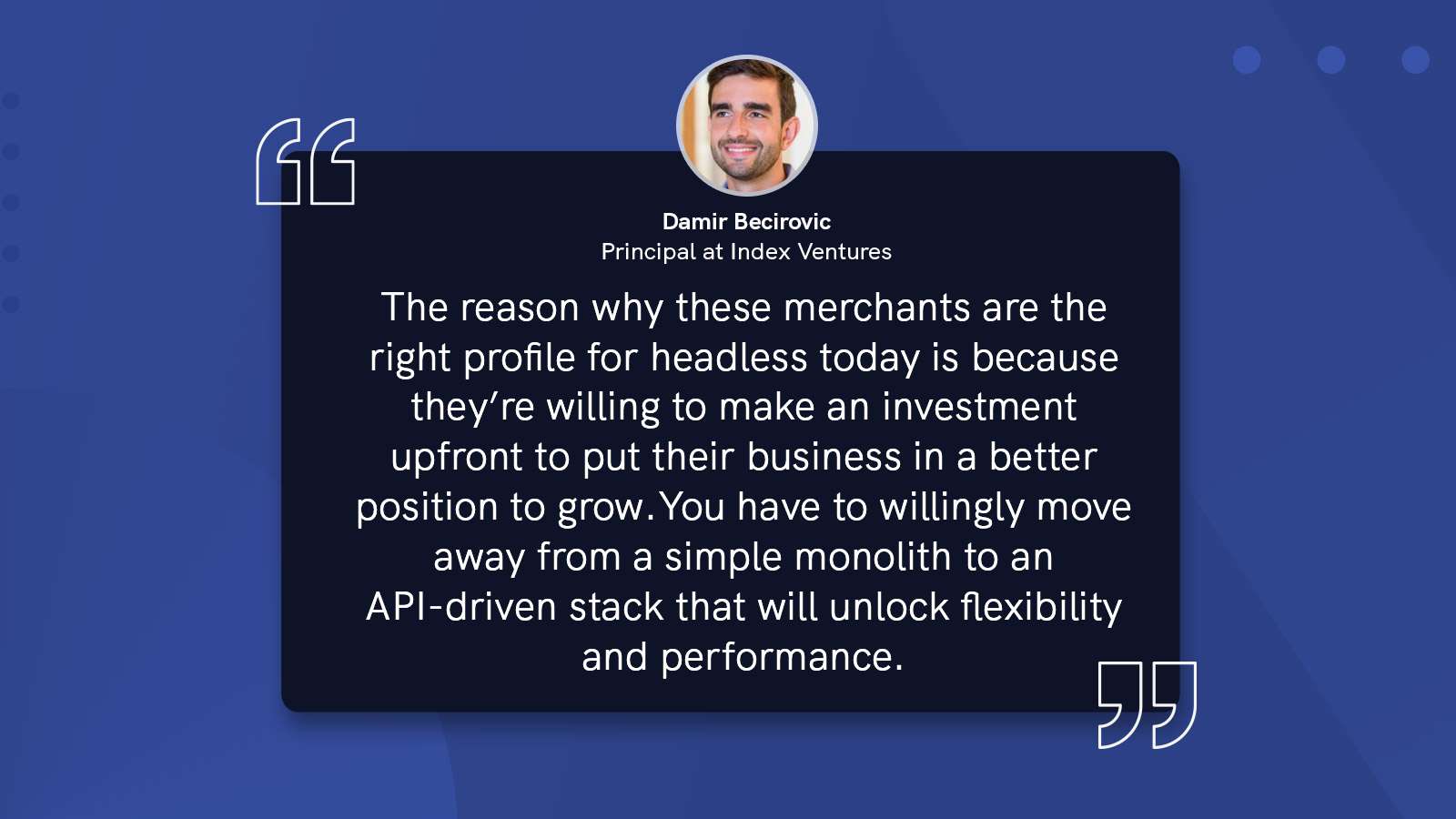 Volume I continues to talk about how headless commerce is predicted to change over time. Damir explains that the early days of eCommerce success were rooted in differentiation, both product uniqueness and the ability to reach customers in a new channel before competitors. Today, most products can quickly be replicated and marketing channels are saturated.
Companies that will be successful today and tomorrow will be masters of orchestration. By understanding the customer journey and building a formidable best-of-breed tech stack capable of catering to that journey at every turn, merchants will be able to engage with customers and inspire sales long before checkout.
What online s
hoppers really expect from brands in 2021
"The most important thing for brands to unlock are twofold," says Damir. "One, loyalty from their customer. Can I get a customer to come back organically and buy more from me over time, as a result of having a great first experience? The second is the customer journey. Can I be really sophisticated in understanding where my customers are coming from? Can I tailor the experience for different channels in a unique manner that leads to high conversion?"
In this Volume II, Brian and Damir go on to discuss how brands can meet and exceed customer expectations, including leveraging channels like SMS, adopting a mobile-first strategy, and using data to quantify and analyze the success of marketing initiatives.
Why investors are excited about headless commerce
Naturally, as investors dig into how brands are building online stores today, they've developed a focus on the software stack that powers and enables successful merchants. Leveraging headless commerce to unlock improved site speed and performance is a large part of that conversation.
In Volume III, Brian and Damir explore the complexities merchant's think about when integrating a headless solution, and the traits venture capitalists look for when investing.
Are Pandemic-era eCommerce Trends Here to Stay?
The COVID-19 pandemic has seismically changed the way people shop. eCommerce growth in 2020 outpaced eCommerce growth over the last decade, and Damir predicts some of the resulting shopping habits will be permanent.
From unwavering in-person buyers forced to shop online for the first time, to young, digital-native consumers, there's a large net new market adapting to be eCommerce-first consumers.
In Volume IV, Damir explains what that means for brands in terms of customer value, brand strategy, and market positioning. He also goes on to discuss the spotlight on the infrastructure supporting shifts in consumer behavior.
How headless commerce affects the shopping experience
From the VC point of view, how a storefront is built significantly dictates a brand's unit economics and the ability to build invaluable relationships with customers.
When done correctly, headless commerce can be synonymous with premier webstore performance, which has implications in all areas of a company's success, from revenue to brand storytelling. In Volume V, Damir dives deep into the staples of eCommerce success and defines how headless commerce can drive a brand's positioning in the market and its profitability.
More experts go head-to-head on headless commerce
More expert perspectives and bite-sized conversations on headless commerce are just a click away. Meet the all-star lineup of eCommerce experts as they share their unique view on headless commerce best practices, trends, predictions, technology, and more. And stay tuned as we continue to add more conversations and insights.
Who's featured so far?
Noah Gedrich, CTO at Zehner

Nathan Call, Lead Engineer at Enso Rings

Damir Becirovic, Principal at Index Ventures

Devin Saxon, Lead Sales Engineer at Nacelle