Reimagine the future of commerce
Nacelle is the future-forward commerce platform that transcends traditional boundaries with innovative headless and composable solutions
Unbox your idea of what commerce is today and rethink what it could be.
Embrace and execute forward-leaning business strategies, benefit from unparalleled site performance that bolsters conversion rates, AOV and GMV, and get the agility you need to construct immersive, tailor-made storefront shopping experiences for your customers.

Why Nacelle?
Nacelle is built specifically for and only for headless shopping experiences. Unlike most commerce platforms designed nearly two decades ago, Nacelle only runs in a headless environment.
Businesses have been attempting to use old, outdated commerce technology to execute modern business strategies.
Those outdated solutions delay ROI due to lengthy, multi-year implementations because they weren't built to solve composable data problems first.
Nacelle's proprietary data orchestration system significantly reduces complexity, and not only speeds time-to-market but quickens time-to-value.
Learn how the most innovative merchants use Nacelle
Explore how they use Nacelle to build highly performant and engaging shopping experiences that increase conversion rates
Experience unrivaled business outcomes powered by Nacelle
26.5%
Increase in shopper conversion rates
12.5%
Increase in average
order value


48%
Decrease in mobile
load time


At Nacelle, we're redefining commerce by helping companies orchestrate their data without limitation
Experience unrivaled page speed performance
In today's commerce landscape, every second counts. Slow page load speed can drastically impact your conversion rates and average order value. Nacelle provides the market's most performant headless offering, leveraging superior API calls and advanced caching systems.
Unleash unprecedented business agility
The fast-paced digital world demands agility. High switching costs, slower rollouts, and missed opportunities can hold back your business's growth. Nacelle eliminates these hurdles by implementing a data orchestration layer. This empowers your business to adopt new technologies seamlessly and select those that align best with your strategic vision.
Accelerate your time-to-market
In an industry that's always in motion, time is a precious asset. Multi-year platform migrations are a thing of the past with Nacelle. We streamline the migration process, enabling your business to be fully operational in a matter of months, not years. Our solution significantly reduces your time-to-value.
Want to understand the basics of composable commerce?
Check out our latest webinar:
Featuring guest speaker Joe Cicman, Senior Analyst at Forrester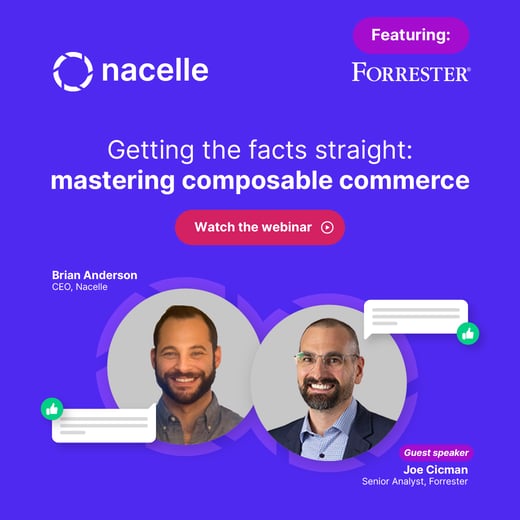 "FTD leveraged Nacelle to go composable the right way; their APIs helped us drive up conversion rates and increased developer velocity, while their composable data layer future proofed our stack."
"We went headless with Nacelle in order to better serve our customers with a fast, modern PWA and to empower our development team through adopting a modern tech stack. We believe that the flexibility to swap out platforms and choose what tools would bring the best customer experience for our brand is important, and the Nacelle platform allows us to do that."
"One of the most valuable benefits Nacelle and Scoutside provided was the fact that I could just outsource the development of our headless commerce architecture. This allows me to invest in new features and capabilities - as opposed to bug fixes or putting out fires - so we can focus on building great campaigns and experiences. We couldn't do it without them."

Jeff Durham
President and CEO
"The whole team at Nacelle were great partners through the entire process. We had an ambitious timeline but were able to get the entire project done on time with Nacelle's help. We now have a faster, more performant website that we're thrilled with. "
"Nacelle allowed us to implement all of the design and UX goals we had for our new site that a standard site template would not have been able to provide. We're thrilled with the customization, security, and ease of use that Nacelle offers."

Katie Johns
Marketing Manager
Featured Customer
Market Leader

G2
High Performer
Business Insider
Best Place to Work

Discover the power of
composable performance
Boost site speed, increase conversion rates, improve business agility and create dynamic shopping experiences with Nacelle