As a retailer, you understand all too well how important it is to measure key performance indicators (KPIs). KPIs help you determine the health of your business and help you make decisions for the future.
But with the evolving landscape of eCommerce and the rise of mobile commerce, performance metrics have become more difficult to measure and improve upon. It's one thing to track the right KPIs but how can you leverage emerging eCommerce technology—like headless commerce—to improve results even further?
In this article, we look at the key eCommerce KPIs merchants rely on and how they can improve them with headless commerce. But before we dive in, here's a quick recap of headless commerce.
What is headless commerce?
Headless commerce is a type of website architecture with a decoupled frontend and backend. The frontend element, your storefront, can run separate from backend functionality, like inventory, product details, logistics, and more.
This flexibility means retailers can make impactful changes and customization to their storefront without working with a developer. For example, using headless with a content management system (CMS) enables drag and drop functionality that allows you to rearrange landing pages, create new ones, update content, and more all without developer assistance.
Also, headless commerce offers the opportunity to leverage progressive web apps (PWAs), which can enable lower latency, faster page-to-page load speeds, and as a result, higher conversion rates.
With that being said, this website architecture style can alleviate and mitigate many of the factors that negatively impact top performance metrics.
Let's take a look at how to improve eCommerce KPIs with headless commerce.
Customer lifetime value
Knowing your brand's customer lifetime value (CLV)—or the total amount of money a customer is expected to spend on your products in their lifetime—is crucial to gauge how much you should spend on acquiring new customers and keeping old ones.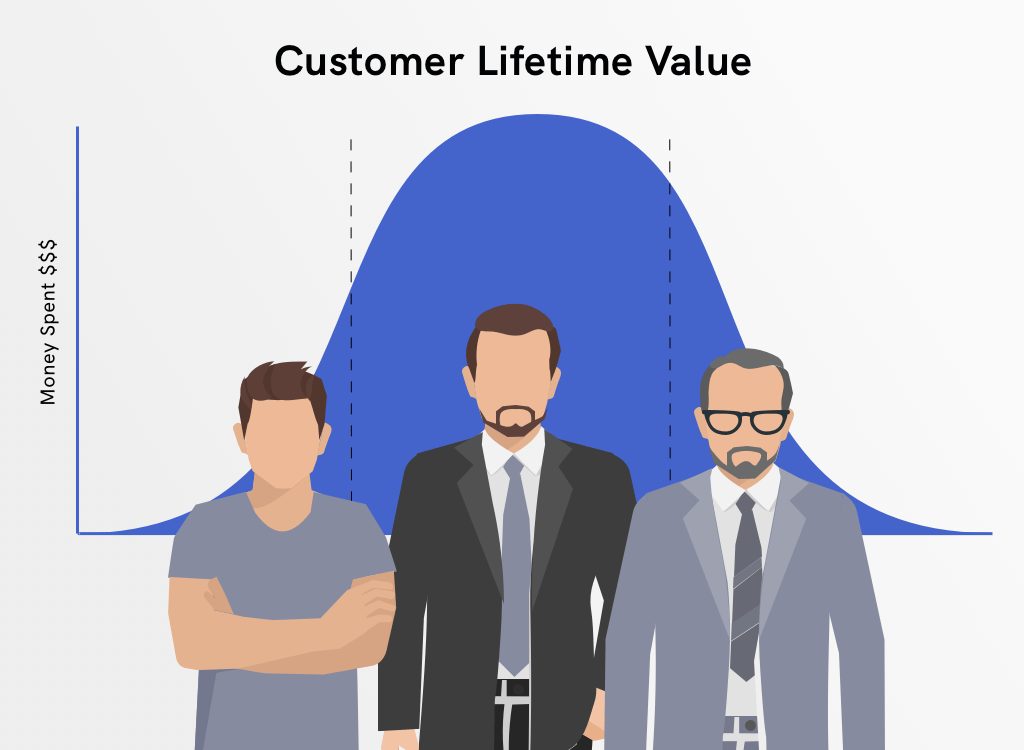 Merchants struggle with CLV for several reasons, such as:
Storefront has a complicated UX, which drives customers away

Overall customer experience is disjointed

Customers don't understand how to use the products or services
Typically, a high CLV is rooted in positive customer relationships. Happy customers buy more products. According to Zendesk, 52% of customers will make an additional purchase from a brand after a positive customer experience.
So, to increase your CLV, start with your customer experience. Headless storefronts using PWAs can eliminate common factors that hinder the customer experience, like slow page-to-page load speeds and overall site speed. Along with faster load speeds and decreased latency, headless PWAs alleviate issues around high volumes of site traffic, which can be a major inhibitor for customers. If a customer cannot complete a purchase due to a bogged-down website, it'll be challenging to get them to convert. A headless PWA can handle large spikes in traffic, so whether you're launching a new product or seeing an uptick in sessions from the holidays, you know that every customer will get the smooth shopping experience they expect.
Customer acquisition cost
Customer acquisition cost (CAC) is one of the essential metrics for eCommerce business. It helps merchants make decisions around tactics that directly impact growth like ad spend and other marketing efforts.
As a retailer, you understand the significance of having a low CAC; it means your business is using the right marketing efforts and channels to bring in new customers and getting them to convert.
However, many retailers struggle with CAC—from being uncertain about which marketing campaigns are performing best in relation to cost, to selling products in a store that isn't optimized for conversions.
As mentioned, headless commerce allows for easy-on-the-fly adjustments to your content or store based on your marketing efforts' results. For example, if you run a social media ad campaign to test different landing page elements, you can make adjustments to that landing page quickly and easily using a CMS. Remember, headless can also accommodate high volumes of site traffic, so as you're optimizing your marketing campaigns, you can be confident that your store can handle any surges in visitors.
Average order value
Like customer lifetime value, average order value (AOV) is another metric that eCommerce teams use to measure an individual customer's long-term value. AOV determines the average amount spent by your customers each time a purchase is made.
Encouraging customers, whether new or existing, to add more to their carts in a single session boosts your overall bottom line significantly.
That said, how can a headless commerce solution increase AOV?
Headless PWAs can lead to significant conversion rate increases by way of improved site load speeds and page-to-page change load speeds. By giving customers the ability to navigate through your store quickly and easily allows them to discover more products which can increase cart sizes.
Furthermore, customers have come to expect a fluid shopping experience across channels—especially as mobile continues to rise in popularity. Therefore, it's critical to provide that same experience no matter the device your customers are using.
Headless commerce builds using PWA technology are mobile-first solutions, meaning they're not just optimized for mobile, but they're designed specifically for creating outstanding mobile experiences. PWAs are built using technologies like Javascript, HTML, and CSS, and offer the same functionality as viewing a mobile website in a browser tab but have the user experience of a native app.
However, building a mobile-first store doesn't mean that the desktop is forgotten. Headless PWAs present the flexibility to create a mobile-first storefront while optimizing across device and browser experience simultaneously.
Customer churn rate
Customer churn is an issue eCommerce brands of all verticals and sizes encounter.
Your customer churn rate is the percentage of customers that never return to your site or purchase from you again within a specific period of time. This KPI helps you understand your business's "stickiness". Customer churn rate is especially important for brands with customers who repeatedly pay, like subscription-model brands.
Merchants struggle with maintaining a low customer churn rate for various reasons, but a few of the most common include:
Marketing to the wrong customers

Customer support isn't up to par

Customer experience needs work
Any feedback you've collected from your customers—both current and churned—can be used to create a shopping experience that encourages them to come back. But how?
According to a report from Zendesk, 50% of customers will switch to a competitor after just one poor experience. Many merchants use customer service tools and plugins to power this arm of their business. But too many tools can eventually bog down your site and impact its performance. Pairing with the right headless solution mitigates this issue.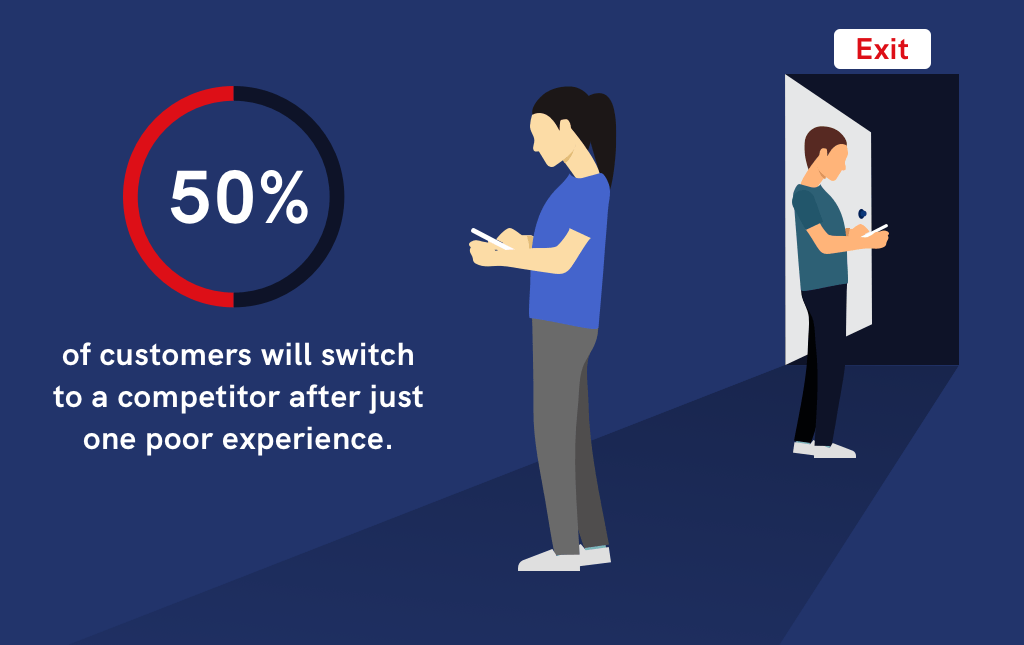 Note: a headless commerce solution like Nacelle works with the tools you have in your existing tech stack. That way, you never have to miss a beat or change vendors. As your customer base grows, you can feel confident that your site is equipped to handle a flurry of customer service inquiries with speed and flexibility.
Sales conversion rate
It goes without saying that an eCommerce brand's sales conversion rate is one of the most important KPIs to track. According to a report from Monetate, the global eCommerce conversion rate across all devices is 2%. What's more, popular eCommerce industries, like apparel, sports and fitness, and home and garden, see average conversion rates of 2.77%, 3.83%, and 4.26% respectively. Depending on the season and your product, this number will fluctuate, but if your sales numbers aren't where you want them to be, there are a few things to consider.
Some of the most common reasons why retailers have issues with their sales conversion rates have to do with their store's UX. Perhaps the checkout process isn't clear to customers, or the site isn't optimized for mobile shopping.
But perhaps the most significant conversion rate killer is site speed. A four-second page delay can result in a 25% increase in page abandonment. The bigger the page delay, the higher the page abandonment rate.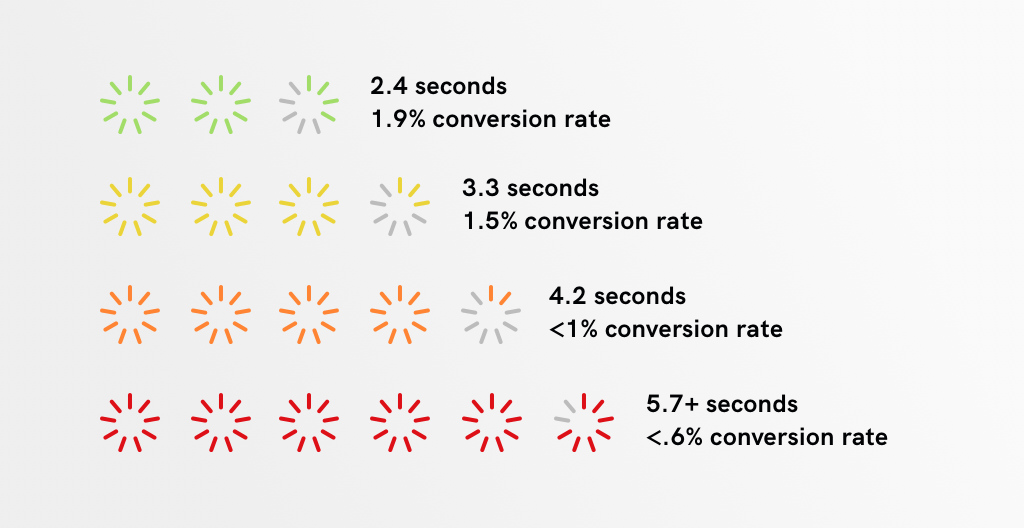 Source: Cloudflare
Headless PWAs using advanced technology like static generation and single page application solve for latency issues, slow site speeds, and delayed page-to-page speeds, which has a direct impact on conversion rates. For example, Ballsy, a D2C men's skincare brand, was using many scripts and apps on their site, which was causing their page load speed to increase drastically. This high latency was hurting their conversion rates.
Ballsy opted for a PWA to accompany their existing Shopify Plus store and their integrations with apps like Klayvio, ReCharge, Privy, and more. As a result, Bally's conversion rates increased by a whopping 28% in just three weeks after launching. This significant increase is attributed to improved page load speeds.
Cart abandonment rate
Whether a customer is using their cart as a "bookmarking" tool as they browse or if a store isn't optimized for mobile commerce, cart abandonment is an issue every merchant has encountered.
According to a study from Barilliance, eCommerce, as a whole, sees an average cart abandonment rate of 75.6%, followed by the retail industry at 72.8% and fashion at 68.3%.
Where does headless commerce come into play?
Storefronts experience glitches—it's par for the course when operating online. Those glitches often trigger cart abandonment. A study from the Baymard Institute found that 17% of customers abandon their carts due to website errors and crashes.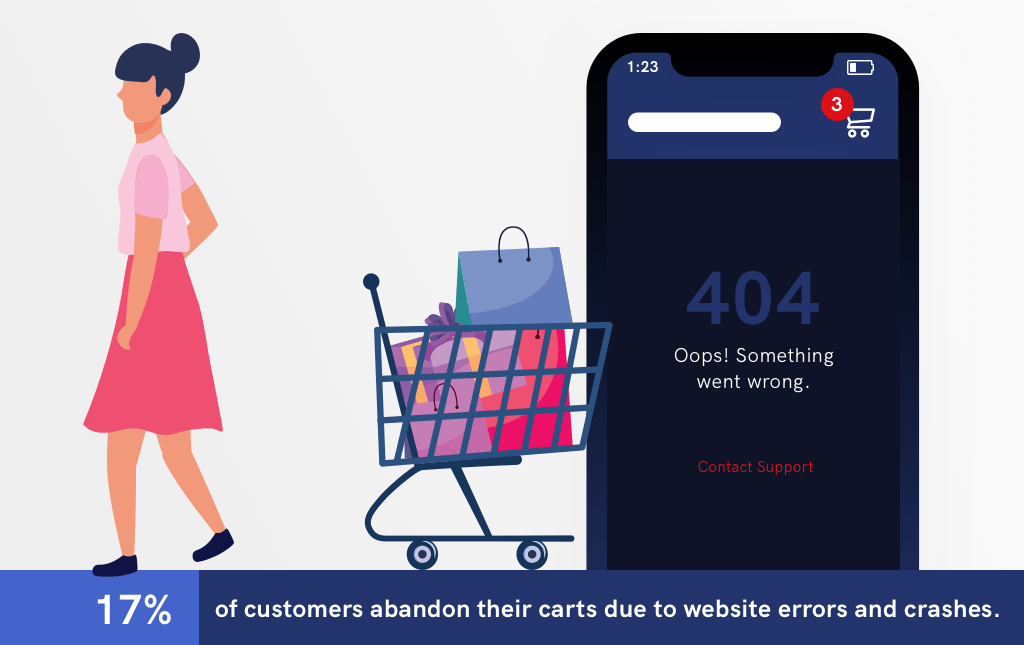 But what if there was a way to drastically reduce these glitches, especially during things like launches and sales? Headless commerce using enhanced PWA functionality mitigates this risk because of its inherent design to handle spikes in site traffic.
For example, fashion, lifestyle, and media brand, Something Navy, launched their new Nacelle-powered headless PWA in 2020 after crashing Nordstrom's website four times. Something Navy has garnered such popularity since it began in 2009, and Nordstrom's website was unable to handle such significant spikes in traffic as a result. Within the first 30 minutes of launching their new PWA, Something Navy sold over $1 million in clothing, all without any site glitches or crashes.
Not only do technical issues contribute to cart abandonment, but storefronts that aren't optimized for mobile also create challenges for customers completing purchases. The same study from Barilliance found that in 2019, mobile devices had an average cart abandonment rate of 80.79% despite it being a top eCommerce channel. This means that if your store doesn't cater to mobile experiences, you'll have trouble converting on this channel.
Reminder: Headless PWAs are built for mobile, so you can create a shopping experience customized to all types of users—no matter the device they're using.
Improve your top eCommerce KPIs with a headless commerce solution
Your top eCommerce KPIs help gauge your business's health and determine your next move from a marketing and sales perspective. However, some challenges will pop up, especially as you grow, like site speed issues, glitches due to site traffic, and more.
Headless commerce offers a unique solution for growing brands looking to scale their efforts, mitigate common issues typically seen with eCommerce stores, and stay agile.
Plus, getting started with headless is simple and easy. Schedule a demo with Nacelle today, and our team will help you get started.