Our new Video Series, Head-to-Head on Headless, has arrived! The series features conversations between Nacelle CEO Brian Anderson and eCommerce experts offering their unique perspectives on headless commerce.
We'll continue to add more conversations to the queue, but in the meantime, we want to highlight one of our first guests, Noah Gedrich.
Noah is the CTO at Zehner, a leading digital agency for headless commerce builds. His series covers the agency and engineering perspective on headless commerce, including why a merchant may opt to outsource a build, and the right criteria for a headless commerce platform.
This honest, no-frills dialogue provides technical insight and an agency perspective for merchants thinking about going headless. Here are some of the highlights.
What merchants need to know about headless commerce
In Volume I of the video series, Brian and Noah waste no time discussing a contentious point in headless: What's the real definition of headless commerce?
The two agree the term has become a little watered down since it hit the mainstream of eCommerce. There's some re-education that often needs to happen with merchants in the D2C space who are embarking on a headless journey for the first time.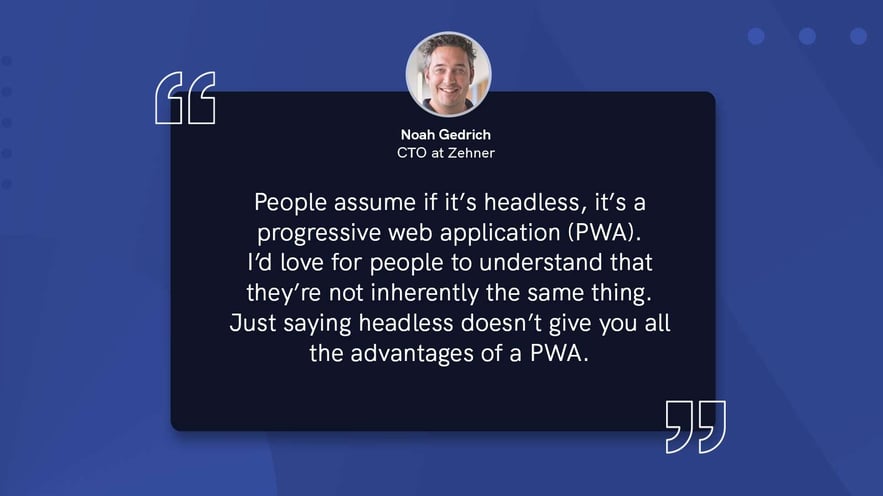 The video goes on to highlight some of the factors that help determine whether or not a headless commerce solution is the right choice for a merchant.
What makes an impressive headless commerce solution?
Spoiler alert: "Simplicity" is not necessarily synonymous with "elegance" when it comes to an impressive tech solution.
Noah says the question merchants and developers need to ask when evaluating a headless commerce solution is: Does it solve the problem in a "reusable, repurposable, and thoughtful way to take the most advantage of tools, while leaving yourself open and flexible for future growth?"
The sentiment supports a best-of-breed approach to eCommerce, where merchants build their tech stack with premier tools on the market.
Even though the individual tools in a best-of-breed stack are supported by different vendors, the right headless commerce platform will enable harmony and cohesion in a merchant's tech curation, unlocking the full potential of a best-of-breed suite.
"When I'm looking at a headless solution for commerce, I'm now saying, what else is available to me if I choose this one? How closed off is this? How walled off is this garden?" says Noah.
Hiring an agency for a headless commerce build
Much of the appeal for hiring a digital eCommerce agency to assist in going headless is rooted in experience and focused expertise. Many merchants are staffed with an incredible in-house development team, but they'll likely only tackle a site redesign and build once every 3-5 years.
Agencies handle these types of projects 20-30 times a year, consistently conquering the full breadth of unforeseen challenges that could arise.
In Volume III of this series, Brian and Noah discuss the merchant-agency relationship, in-house biases, and the important distinction between a build and a maintenance team.
Who's a good candidate for headless commerce?
Headless commerce isn't the right strategy for every eCommerce brand. In Volume IV, Noah and Brian examine which merchants should be exploring headless commerce for growth.
For the right candidates, the benefit of brand engagement for both first-time and repeat customers is typically understated. The first page load is undoubtedly meaningful and important to optimize for speed, but the benefits of page-to-page load speeds are often where the magic happens.
All teams should be excited about headless commerce
The excitement of headless commerce isn't exclusive to one team, be it merchandising, eCommerce, marketing, or development—there are significant benefits to both the backend and the frontend.
In Volume V, Noah brings up the power of eCommerce platforms and how headless solutions can help dev teams infuse best-of-breed tools and the latest-and-greatest frameworks into their tech stack.
This volume is all about the relationship between your headless solution and your tech stack, including your eCommerce platform, and how a headless solution will affect the workflows of various teams.
More experts go head-to-head on headless commerce
More expert perspectives and bite-sized conversations on headless commerce are just a click away. Meet the all-star lineup of eCommerce experts as they share their unique view on headless commerce best practices, trends, predictions, technology, and more. And stay tuned as we continue to add more conversations and insights.
Who's featured so far?
Noah Gedrich, CTO at Zehner

Nathan Call, Lead Engineer at Enso Rings

Damir Becirovic, Principal at Index Ventures

COMING SOON: Devin Saxon, Lead Sales Engineer at Nacelle