Nathan Call is the type of engineer leader you want on your team when you are deciding on, planning, and executing your headless commerce build.
Nathan is the lead engineer at Enso Rings, a silicone ring retailer that recently went live with a headless PWA. He has garnered multiple headless build experiences prior to joining the Enso Rings team, making him an expert on the process.
He joined us on our Head-to-Head on Headless Video Series to talk about his decision to use a headless commerce platform instead of building an in-house solution at Enso Rings. He also delves into headless benefits specific to dev teams and the challenges merchant's are up against when implementing a headless commerce solution.
Technical team members thinking about taking their brand headless—this one's for you. We hope you enjoy Nathan's honesty and expertise in this series. Here are some highlights.
The best advice for a headless commerce build
Plan, plan, and plan some more. Nathan says that's the best thing you can do going into a headless commerce build and implementation.
"There's no headless build that's going to be easy per se," says Nathan. "There's always going to be challenges and the more you plan upfront, the better off you'll be."
Even the best in-house development teams—and Enso's dev team is bar none—need to spend sufficient time on this piece. Your immediate and future goals always need to be at the forefront of planning and decision-making.
"Taking such a large amount of time to plan, especially when you're on a super tight schedule, might seem like a risky endeavor to take on, but in our case it paid off in a big way," says Nathan.
In Volume I of his series, Nathan also reveals what he would do differently if he were to do the build and implementation again, and what developers should include in the scope of their build from the start.
Why D2C merchants need a headless commerce solution
One of the first things Nathan wanted to do after joining the Enso Rings team was to get site speed up and address the issues contributing to poor website performance.
Despite the amazing features and functionality of eCommerce platforms and CMS solutions, he realized that any eCom platform or CMS will have bottlenecks and contribute to latency, as they're not necessarily efficient for consumers on the frontend.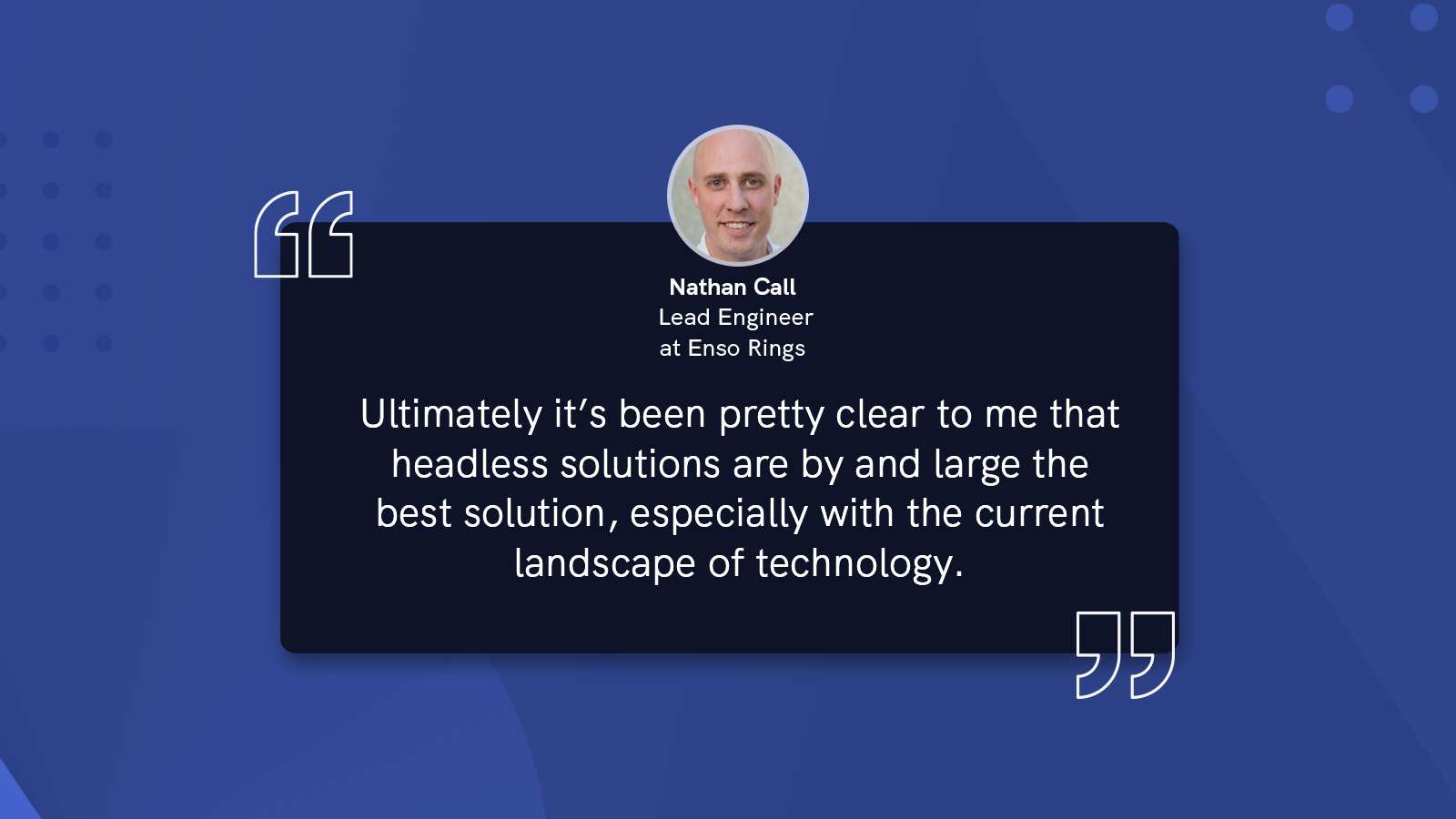 Watch Volume II to hear how Nathan pulled from his headless build experience to make the decision to take Enso Rings headless.
Challenges implementing a Headless commerce solution
One of the challenges the Enso Rings dev team faced was the learning curve moving from a Liquid codebase to a Vue/Nuxt codebase. They also had to address technical debt from previous site iterations and navigate the best way to structure their extensive product catalog.
In Volume III, Nathan details how he focused his team on maximizing site performance—including how they addressed rate limits—and the steps they took to protect Enso Rings from further technical debt.
How headless commerce impacts metrics and goals
Site speed and improved conversion rates go hand in hand, and the Enso Rings team undoubtedly saw performance improvements upon going live with their headless PWA. However, Nathan also experienced a return on investment on the development side of the business.
Watch Volume IV to see how the Enso Rings dev team leveraged their newfound efficiency in ways that were previously not possible. Plus, Nathan talks about future goals he's already positioning his team to achieve by leveraging their headless solution.
Opting for a headless commerce platform vs. building in-house
The build vs. buy debate. Once Nathan established early on that the brand needed to go headless, the decision became whether or not the team should build a headless solution in-house, or outsource the lift by using a headless commerce platform.
In Volume V, Nathan reveals what he found in his open-source community research and the reasons he ultimately decided to use an outside headless commerce platform. He also details why he chose to use Nacelle specifically.
More experts go head-to-head
More expert perspectives and bite-sized conversations on headless commerce are just a click away. Meet the all-star lineup of eCommerce experts as they share their unique view on headless commerce best practices, trends, predictions, technology, and more. And stay tuned as we continue to add more conversations and insights.
Who's featured so far?
Noah Gedrich, CTO at Zehner

Nathan Call, Lead Engineer at Enso Rings

Damir Becirovic, Principal at Index Ventures

Devin Saxon, Lead Sales Engineer at Nacelle