The concept of headless commerce made its debut following a Forrester Research report in 2013. In the report, industry analysts called out eCommerce vendors for doing such a poor job keeping up with user experience (UX) trends. The Forrester team recommended a looser coupling of the back and frontends of eCommerce stores to provide greater flexibility and faster UX innovation.
And so headless commerce was born.
Nacelle's latest chapter
Fast forward to 2019, when Nacelle was founded to help brands and retailers accelerate their adoption of headless commerce. In August 2021, we raised $50M USD in our Series B round, for a total of $72.8M in funding from our venture capital and angel investors (thanks for believing in us!).
When we debuted in 2019, we focused exclusively on merchants using the Shopify eCommerce platform. It's an amazing platform used and loved by many. Our team has deep Shopify domain knowledge and this shaped the vision to support brands to go headless without completely replatforming.
However, as headless adoption continues to surge, it's become clear that what we have is needed by merchants on all platforms. This month we're pleased to announce the expansion of Nacelle's data orchestration platform to support all major eCommerce platforms.
The journey from headless to modern commerce with Nacelle
The arrival of eCommerce changed how we shop and consume, making the digital shopping experience a top priority for merchants.
Shoppers have made it clear that their expectations must be met to succeed in today's competitive eCommerce market. Deloitte, for example, published a study that shows that a 100-millisecond improvement in site speed generated 8.4% increase in conversion rates. A study from Infosys found that 86% of respondents say that they are influenced by eCommerce personalization. Finally, 75% of shoppers have tried a new shopping behavior and most intend to continue to use it beyond the COVID crisis, according to McKinsey.

The requirements are clear - shopping experiences must be fast and personalized and continue to evolve to meet the changing needs of shoppers.
While headless provides merchants with the approach they need to deliver differentiated experiences, headless is believed to require a heavy IT resource commitment to integrate core pieces of the overall stack and maintain the system.
With such an expensive and time-consuming model, many organizations find themselves stalled. While many are eager to up their eCommerce game to headless, the lift seems daunting.
Fortunately, the modern commerce stack has quickly become the preferred approach to headless commerce. Unlike other headless approaches, the modern commerce stack is composed of purpose built technologies that make headless cost-effective and adaptable to the fast-paced commerce technology landscape. It employs an API-first, modular approach that is fast and future-proof.
Nacelle: the connective technology for truly headless commerce
Nacelle provides a data orchestration platform that expedites the deployment of the modern commerce stack.
Merchants can choose to use current best-of-breed commerce platforms, easily adding new technologies to continually evolve their tools and the shopper experience. The abstraction that Nacelle provides eliminates the need to replatform while adding new capabilities as the business–and customers–demand.
Developers can access offerings that reduce headless project times by 50%. Storefront accelerators on Vue and React and a single unified GraphQL API make app development simpler. A high-performant index of all commerce data and a parallelized, event-based ingestion engine provide reliable infrastructure that is managed by Nacelle, eliminating the need to hire any backend developers. The outcome is a Progressive Web App built on Nacelle that generates near-term ROI by being both fast and completely bespoke.
Out-of-the-box connectivity to major commerce platforms eliminates integration from the list of barriers blocking headless adoption. This is done through a central platform that pulls in fresh, real-time data from multiple sources including commerce platforms, PIM, CMS, and OMS.
Paired with existing technology, a statically generated PWA storefront loads faster, performs better across all devices, and meets the expectations of shoppers—improving conversion rates, average order values and return on investment.
With Nacelle orchestrating data between frontend and backend, merchants and developers can adopt best-fit tools and technologies without disrupting shopper experiences or backend processes.
Modern commerce stack + Nacelle success story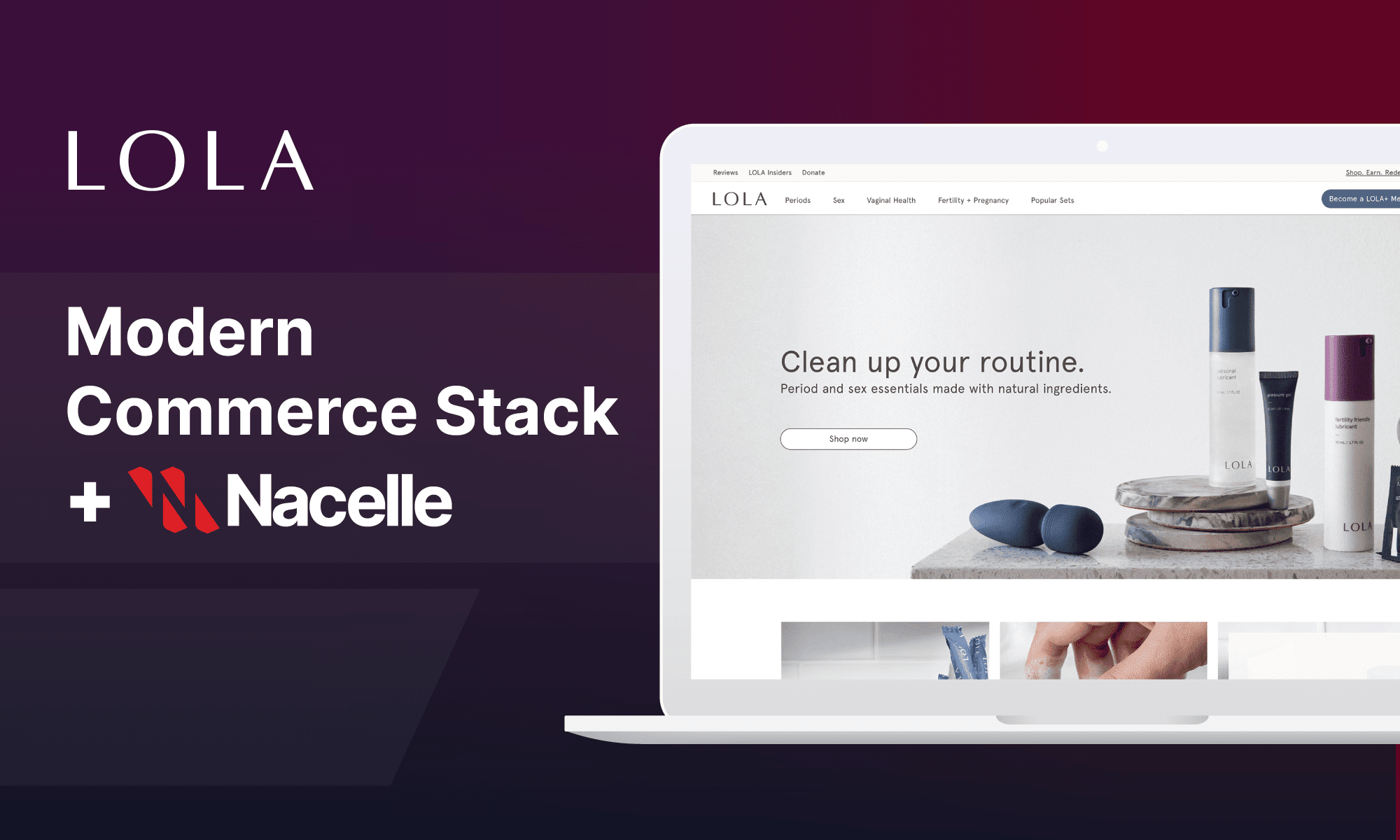 LOLA, a digital innovator and lifelong brand for reproductive health, decided to take its digital store headless.
With a small engineering team, LOLA didn't want to invest the time and resources in replatforming (i.e., remapping of the entire customer base, historical orders, etc.), so they decided to adopt a modern commerce stack using Nacelle-powered PWAs.
LOLA's number one objective was to increase site speed. Once launched, after just a one-second improvement, the team saw an immediate increase in retail conversions by 8.4%. Since go-live, site speed and overall results continue to trend upward with average order value (AOV) up 25%.
Unanticipated (but very positive) outcomes included a reduction in bounce rate by 65% and an 11% increase in page views per session. LOLA customers are visiting the site, staying longer, and ordering more thanks to the modern commerce stack and Nacelle.
For the full story, check out the LOLA webinar.
Next for Nacelle
With the expansion of our data orchestration platform to serve all merchants, regardless of their existing eCommerce stack, we are actively engaging with new categories of customers using Salesforce, Adobe Commerce, BigCommerce, and many others.
Whether you're new to headless or already on your way, we can help. For more information, contact us or request a demo.