Last year, Cyber 5—the five day shopping rush between Thanksgiving and Cyber Monday—broke records. Shoppers in the U.S. spent $28.49 billion online, over 17% more than the same time period in 2018, according to Digital Commerce 360. And let's not forget the hoards of people gathering their virtual pitch forks when webstores couldn't handle the increased traffic.
Like everything in 2020, this Black Friday / Cyber Monday (BFCM) weekend will likely look drastically different than years before. Online merchants have already gained an extra $107 billion thanks to the pandemic, with smartphone sales generating 40% of all online sales so far.
eCommerce merchants have two options for November: They can hold on for dear life as the pandemic-fueled BFCM tsunami hits their homepage, or they can prepare themselves ahead of time and ride the wave into the new year.
In an effort to help you prepare, last week kicked off the 'Holidays, Unwrapped' webinar series hosted by eCommerce analytics company, Daasity, bringing industry leaders together to discuss taking these circumstances in stride and turning chaos into opportunity. Six eCommerce insiders spoke candidly about what merchants are up against this year and how they can prepare for the COVID edition of BFCM. Here's what they had to say: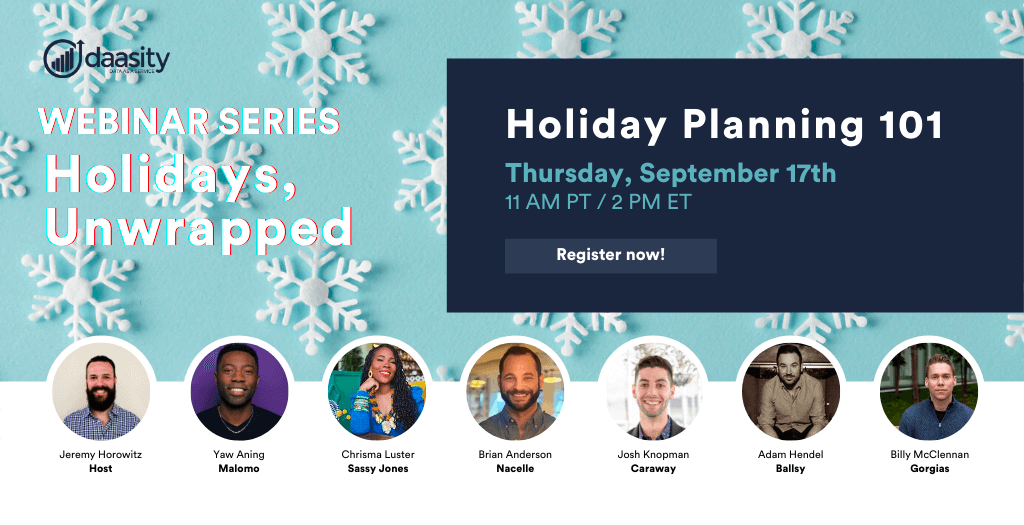 Prioritize the web store customer experience
Brands need to create an online customer experience that turns the one-time customer into the lifetime customer—and every touchpoint counts. Ballsy Co-founder Adam Hendel stressed the importance of exceeding customer expectations with "surprise and delight." While a quality product is a baseline requirement for success in the D2C era, the product alone is not enough to attract a buyer, get them through checkout, and keep them coming back for more. And it's not enough to propel forward important metrics such as Average Order Value (AOV), Return On Ad Spend (ROAS) and conversion rates.
Nacelle Co-founder and CEO Brian Anderson followed Hendel's point to explain how page load speed has a significant impact on those KPIs. If your page load speed is too slow, your conversion rates and AOV will suffer. Fast page load speeds make it easier for customers to explore a product catalogue, understand and connect with a brand, and spend money at checkout.
Moving to a headless build is an efficient way to achieve those fast page load speeds while also improving mobile experience and supporting traffic spikes that merchants often experience during BFCM.
"I can't stress enough, if you can, convert to a headless build, it's been worth it on our end," said Hendel, who saw Ballsy's conversion rates increase 28% after implementing a Nacelle-powered PWA. "If you go on our site, you can see it's so quick. It feels like a native app."
Often a big focus for brands during the holidays is to increase marketing efforts and advertising. However, if you can get a potential customer to land on your site and the page load speed is slow or the mobile experience is subpar, even the best marketing strategy can't reach its potential. Shoppers will bounce, abandon the journey, or even worse, turn to a competitor.
Be sure to focus your time on what happens once shoppers get to your site. Start with the basics: page load speed, mobile experience and spikes in traffic support.
Provide transparent communication & service
Transparency erring on the side of over-communication is what people are expecting from customer service right now. Billy McClennan, Partner Manager at Gorgias, an eCommerce-focused help desk that assists brands with customer service support, says many of the tickets they've been seeing in the past six months are rooted in transparency. People want visibility into what brands are doing in relation to current events including the pandemic, high unemployment rates and social justice issues.
Response time is also crucial, especially on channels like SMS, live chat and email. McClennan warns that orders are likely to be two to five times higher during the COVID holiday season, which will naturally be reflected in an increase of customer service tickets. His recommendation is to staff and plan accordingly.
Make a contingency plan for shipping products
The pandemic-led tectonic shift from the brick and mortar experience to online shopping has resulted in an increase in packages, which has not been easy for delivery services such as UPS, FedEx, and USPS. While you can't snap your fingers and fix the overwhelmed supply chain, you can use the situation as an opportunity for branding, transparent communication, and a chance to connect with consumers.
Josh Knopman, Growth Lead at D2C cookware brand Caraway, saw a surge in orders during the early days of the pandemic as people started to cook more at home. As the banana bread baking craze swept the nation, Caraway's inventory was swept out. The company became laser focused on informing their customers at every stage of the buying journey about shipping updates and expected delivery delays.
Caraway integrated with Malomo, a delivery tracking platform, to use shipping emails and tracking pages that customers often navigate as an opportunity for branding, referrals and cross-selling other Caraway products.
It's vital to set expectations early and often throughout the holiday shopping season. Yaw Aning, Co-founder and CEO of Malomo, says merchants have a lot of success setting expectations on their website before any purchase is made. For example, to communicate shipping delays, a banner on your homepage that says there will be delays due to new sanitation policies will create appreciation and understanding among most shoppers.
He also highlighted eCommerce companies that promote guaranteed delivery dates online. It's typical during the holidays to see messages such as, "purchase by this date to receive in time for Christmas," but this year it's even more significant. Those "purchase by" dates will need to be earlier to accommodate shipping delays, but Aning says that level of communication creates a natural urgency and puts shoppers' worries to rest.
On average, customers track their shipment four times after a purchase and Aning expects that number to quadruple during this year's BFCM.
"Just the sheer number of impressions that you're delivering during shipping is in the tens of thousands," says Aning. "What that means is you are amplifying a really good experience or you are amplifying a terrible experience."
Try something unique for a memorable experience
Chrisma Luster, Brand Manager at accessory brand Sassy Jones, listed a plethora of tactics that can impact ROI, from handwritten notes sent to each customer to going "live" on social media throughout the week to encourage engagement and show customers there are real people behind the brand. The company's CEO even hosts virtual styling "parties" showcasing how customers can best rock their new accessories. These tactics have been a hit with Sassy Jones shoppers.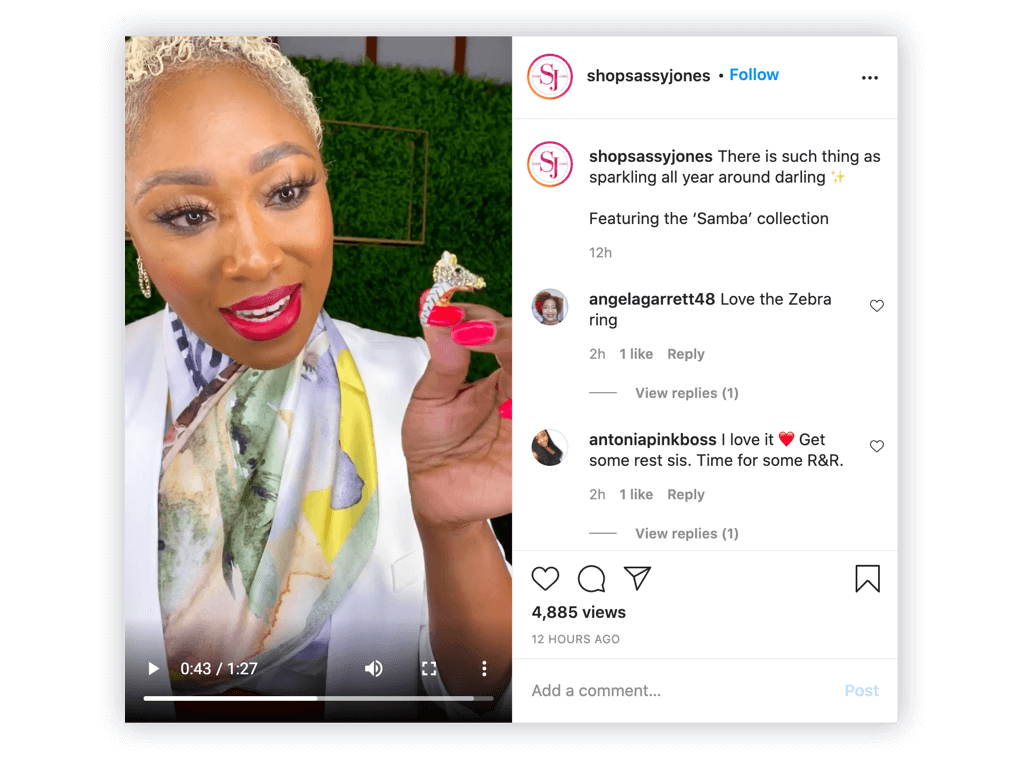 "It's not just accessories that we're selling," said Luster. "It's an experience, it's confidence, it's inspiration."
Ballsy uses humor and creative lines of communication to reach their audience. It might just seem like lighthearted touch points, but Hendel's team makes it count. This holiday season, in an effort to capture emails from both the gift-giver and the gift-recipient, each Ballsy gift box will have a scratch-off ticket with prizes that can be redeemed when the recipient offers up his email. It's a clever two-for-one email capture tactic that will add an element of excitement and fun to the shopping experience.
Use BFCM as an opportunity to upsell & cross-sell
There are several opportunities to upsell and cross-sell along the customer journey that merchants tend to overlook. Hendel uses AOV and conversion rates as top metrics for Ballsy. He says while many brands participate in discounts during the holiday season, it does not mean AOV or ROAS has to take a hit.
Hendel's team uses product pages to cross-sell. For example, pushing body wash when someone is purchasing shampoo and conditioner. They also leverage a cart upsell and a checkout upsell. Hendel recommends using a relatively inexpensive product that compliments much of a brand's catalogue, so when people are committed to their purchase, clicking "add to cart" on the smaller item seems like an easy ask. Hendel said his team saw about 15% of customers add Ballsy's upsell offering—a $6 sponge—to their order, which gave a nice bump to AOV.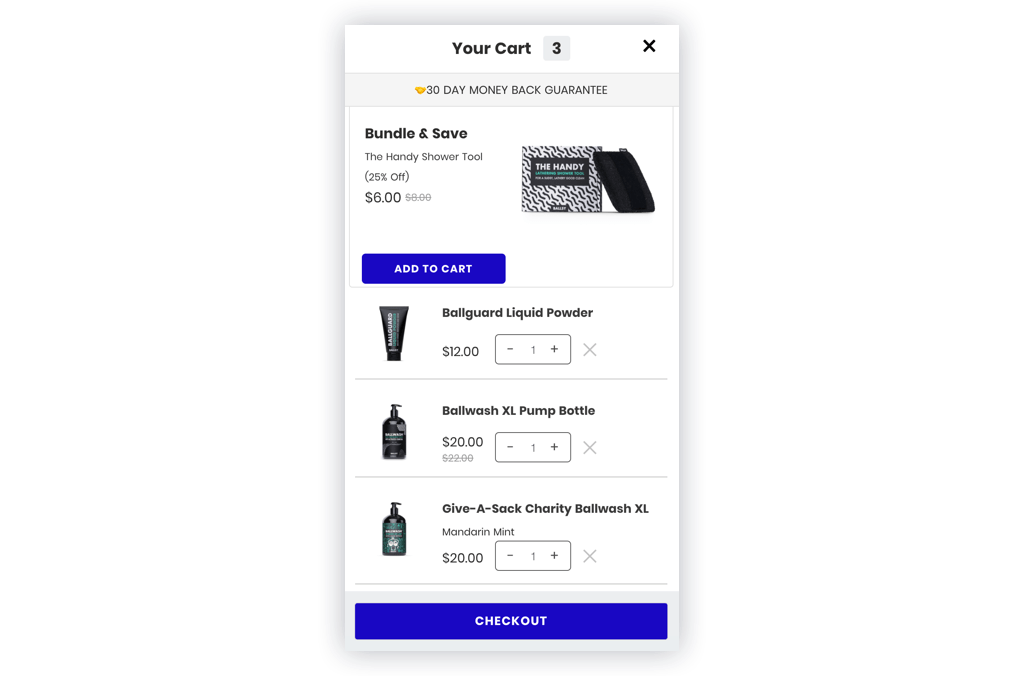 Customers are also drawn to kits, especially during the holidays, which include several top products sold together in one package. It's a win for brands because it makes the buying process simple for customers and they don't have to add several items to their cart. They might even get hooked on a new product in the kit that they otherwise wouldn't have tried.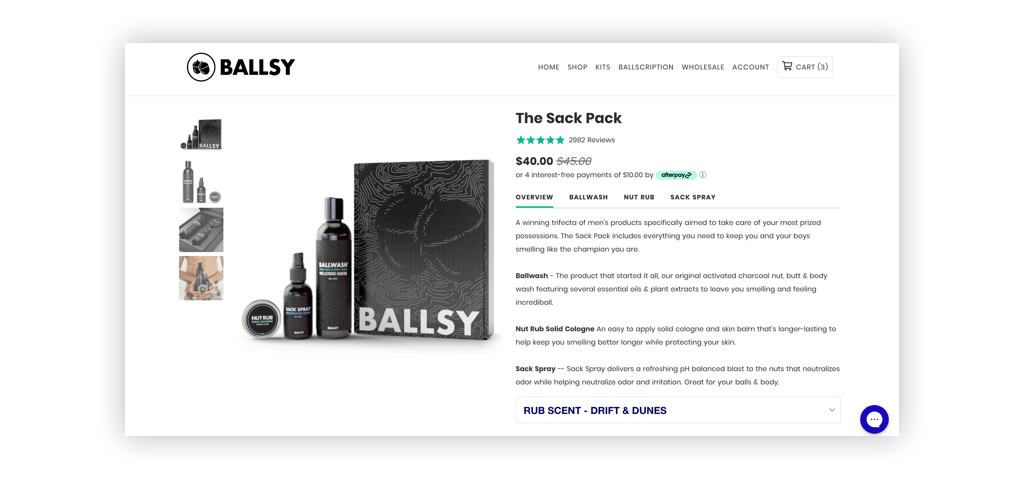 On the customer service side, McClennan points out that even customer service representatives' email signatures are an opportunity to promote BFCM discounts and offerings. And a phone conversation about a broken product can be a chance to upsell to a nicer model or slightly more expensive item.
Adopt a SMS strategy or start planning for one
Several panelists mentioned SMS, or text message, marketing as a "must" for eCommerce merchants. Knopman explained SMS is especially useful for cutting through the BFCM noise and significantly more effective and intimate than email marketing.
Even if you don't have an SMS system in place yet, Knopman encourages brands to start capturing customer phone numbers during the holidays and start building an SMS contact list for the future.
Cultivate a community
A beautiful aspect of the D2C shopping experience is the sense of community—a customer's direct communication channel with a brand and like-minded shoppers. The benefits of creating and maintaining these communities go far deeper than the surface level and are a critical part of a D2C brand's success.
"If you're able to start a conversation and explain why that customer is a good fit for the brand community, they could become a lifetime customer," said Anderson.
At the most basic level, these communities, which are typically hosted via social media using features like Facebook Groups or Instagram Live, are another place for transparent communication. Supply chain woes like shipping delays that are already being communicated through more traditional channels like email, should also be shared here.
Brands such as Ballsy and Sassy Jones make sure to let customers see what's behind the curtain by sharing videos of the warehouse and the supply chain process, showing real people hard at work behind the scenes. These communities are an engagement channel unlike any other—it can bring a brand to life and make customers feel synonymous with that persona. For many merchants, no price is too high for that level of brand loyalty.
---
Listen to the full Holiday Planning 101 webinar recording here and don't forget to register for upcoming sessions in the series including:
October 1: Beat the Holiday Rush With Ops Built to Scale

October 15: Get Your Site Up To Speed

October 29: Making an Email, Checking it Twice

November 12: Twas the Night Before – Final Preparations