Headless Commerce
The Future is Now:
Headless Commerce for a Competitive Edge
Transform Your
eCommerce Experience
Nacelle modernizes your online storefront for an immersive, seamless and quick shopping experience.




Learn how forward-thinking merchants use Nacelle to build faster and more performant storefront experiences
Optimize page load speeds for higher revenue
Transitioning to headless commerce can be marred by one significant setback: slow page load speeds. Speed isn't just an advantage, it's a necessity. In the dynamic world of ecommerce, slow page load times can harm your conversion rates and average order value. The heavy reliance on multiple API calls bog
down the shopping experience and impacts conversion rates.
Unleash the power of a single API
Nacelle harnesses the power of advanced caching systems and requires just a single API, meaning fewer calls and faster page load times. The result? A heightened customer experience that bolsters your bottom line. Nacelle is the only composable commerce platform in the market that gives you unparalleled page load speeds.
Harness the advantage of a multi-head strategy
Recognizing that customers interact with numerous devices and platforms throughout their day, businesses need to leverage multiple headless experiences across all storefronts, apps and channels; ensuring diverse shopping experiences can be rolled out quickly and efficiently. Nacelle simplifies the process while keeping the art of storytelling at the heart of every customer interaction.
An architecture tailored to your needs
How does Nacelle achieve this seemingly impossible task? The secret lies in its proprietary data orchestration layer, designed specifically to tackle the challenges associated with headless and composable builds. By joining commerce and content data from multiple systems, Nacelle allows merchants to bypass the complexities of adding data manipulation logic to each individual head.
Grab this guide
Delve into the world of headless commerce, uncovering the remarkable outcomes experienced by our merchants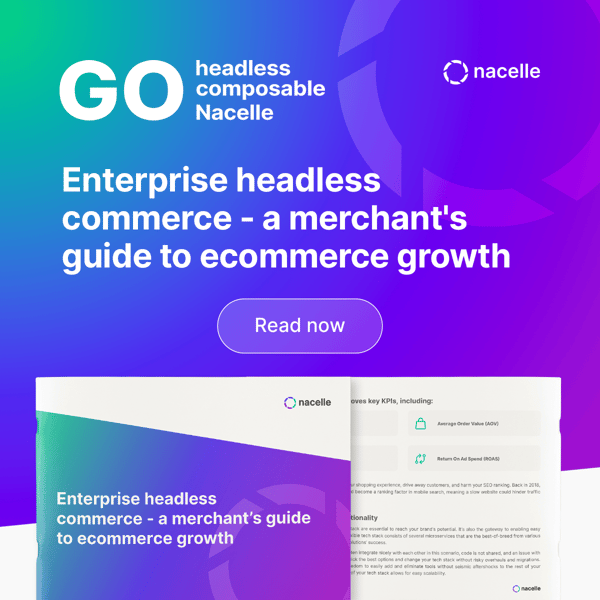 Discover the power of performance
Boost site speed, increase conversions and create dynamic shopping experiences with Nacelle