Сomposable Commerce
Gain Unprecedented
Business Agility
Simplify technology adoption
for maximum flexibility
Fuel growth, future-proof your commerce stack and free your business from data limitations when you compose best-of-breed solutions and orchestrate the data between them.
Learn how forward-thinking merchants use Nacelle to build faster and more performant storefront experiences
The reality of composable commerce platforms
Legacy headless platforms may boast composable features, but most are still 'jack of all trades' systems with conventional API flows. They don't blend data from the backend of both commerce and content management systems (CMS). This situation burdens your team with the task of managing these data sources in a 'middle data layer', making the full potential of a composable stack hard to realize without a proper data orchestration layer.
Experience the power of data orchestration
Nacelle effectively processes and indexes commerce and content data, enabling the fusion of information from various systems via a single API. Nacelle works as a layer of abstraction, letting you modify your CMS and back end commerce systems without necessitating a total refactoring on the frontend.
Streamline content and commerce integration
By taking this approach, we lift the burden of content and commerce integration from your developers, streamline your codebase and accelerate your velocity. With content taking a leading role in Nacelle's solution, storytelling remains central to your brand and shopping experiences, fueling your growth on the composable commerce journey.
Accelerate ROI
Once Nacelle starts pulling data from your systems, your team can implement multiple headless channels, including high-performance progressive web apps (PWAs). Rapid deployment of these PWAs means quicker returns on your digital composable roadmap translating to increased conversion rates within months, not years.
The hurdles of replatforming
To keep up with the ever-evolving e-commerce landscape, swift market entry is essential. However, transitioning to a new commerce platform is a mammoth task, fraught with uncertainties — from cost overruns to extended timelines and underwhelming outcomes. The data migration aspect is often the most critical and challenging.
Fast-track growth with rapid time-to-market
Forget about lengthy platform migrations. Nacelle enables your business to transition and become fully operational in months, not years. By significantly reducing your time-to-market, we empower you to seize opportunities faster and stay ahead of the competition.
Embrace the anti-rip-and-replace solution
Nacelle's ingestion engine is technology-agnostic, capable of extracting data from any system, including popular legacy solutions such as Magento, Shopify, Salesforce Commerce Cloud, and others. Nacelle integrates with your existing technology, keeping business operations stable and avoiding the need for data migration to a new platform.
Optimize your business operations
With Nacelle and a positive ROI secured, commerce leaders can start building their optimal stack and incrementally improve their operations. This contrasts with competitors who require a full data migration before starting your composable journey. Over time, you can gradually phase out legacy back end systems, effectively reducing risks to your business.
Read about FTD's success with Nacelle
Learn how FTD improved developer efficiency, conversion rates, technical quality and fostered innovation.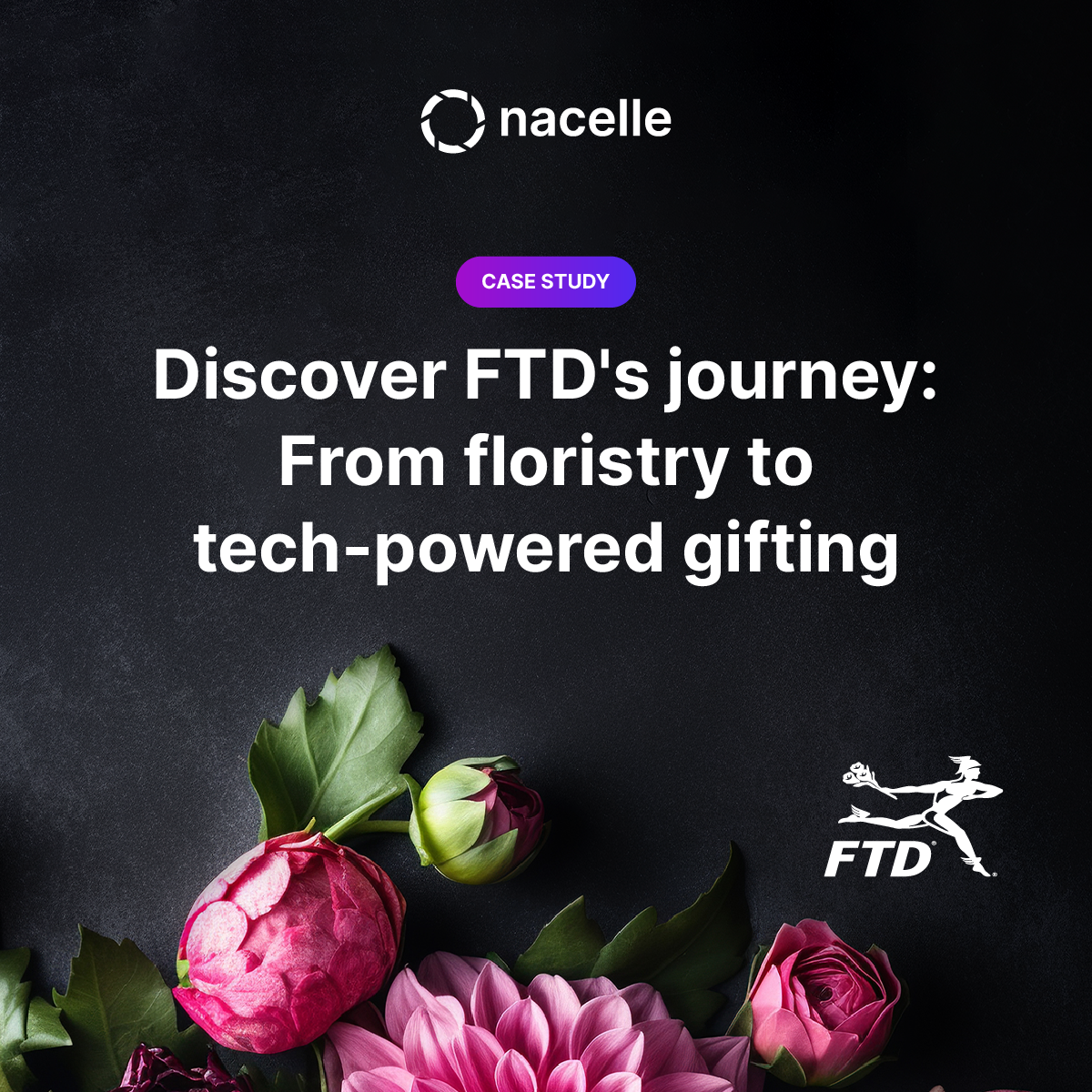 Build the experiences you want
without the risk of having to replatform
Experience the unique anti-rip-and-replace migration strategy that Nacelle's composable architecture offers — safeguarding your business from risky replatforming endeavors